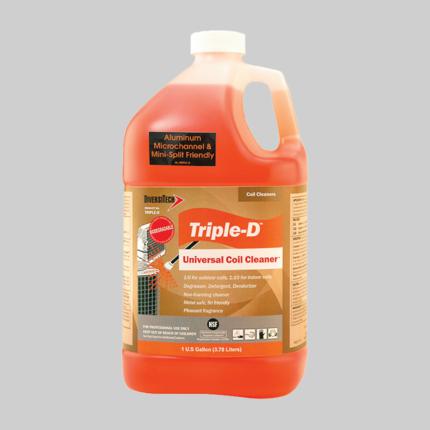 TRIPLE-D
Triple D™ Universal Coil Cleaner
Triple-D™ is a Universal Coil Cleaner suitable for use on condenser and evaporator coils. Metal safe and does not attack aluminum or copper coil components, extending equipment life and diminishing potential for refrigerant leaks. Safe for rooftop units.
Triple-D™ is available in a package to fit any contractors needs — super concentrated liquid, pre-mixed trigger sprayer, convenient aerosol, and industry leading Granular Coil Cleaner. In liquid form, Triple-D™ is super concentrated. A single gallon of concentrate makes 75% more mixed coil cleaner than conventional concentrations. The liquid concentrate is also NSF Registered, assuring that it is safe as a cleaner in restaurants, hospitals, government institutions, and any food preparation area (rinse thoroughly after use). Triple-D™is a safer, more versatile product than con- ventional acid or non-acid coil cleaners. One product does it all — truly a Universal Coil Cleaner.
List Items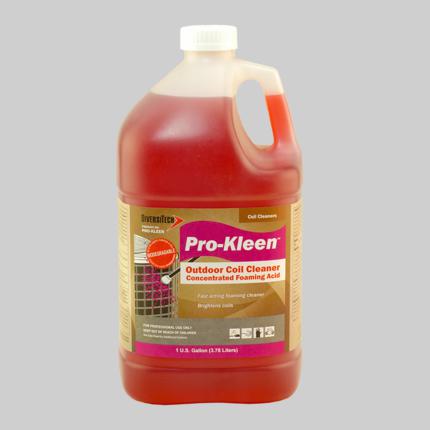 PRO-KLEEN
Pro Kleen™ Foaming Acid Condenser Cleaner
Less hazardous because it contains no dangerous hydrofluoric acid. High-foaming action and easy rinsing minimizes cleaning time. Effectively removes salts and scale as it brightens. USDA AUTHORIZED
List Items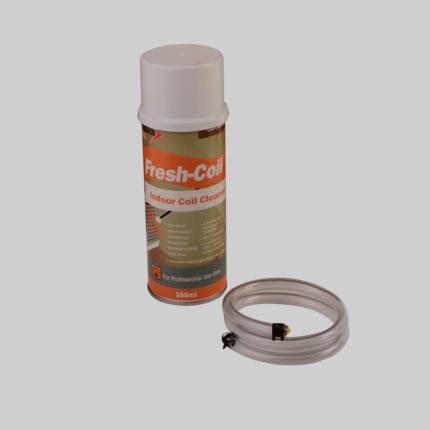 FRESH-COIL
Fresh Coil
Specifically designed for use with mini split wall and ceiling cassettes. Fresh Coil features a 3' (1 meter) hose with a brass spray nozzle for easy reach into and behind indoor cassette coils.
List Items
ECO-COIL
Eco-Coil™
Eco-Coil™ is an environmentally friendly no rinse non-corrosive cleaner ideal for evaporator and condenser coils, electronic and permanent filters, fan blades, grilles, mini-split and microchannel applications. Eco-coil quickly cleans away dirt, dust, and deposits while deodorizing with no harmful risks to animal, aquatic or plant life. Tested to provide the highest level of performance, Eco-Coil not only reduces the number of products required to clean but also has different water mixture ratios to maximize solution usage. Furthermore, it brightens, biodegradable, NSF approved, and meets the EPA's Design for the Environment Alternative Program as a "green" product.
List Items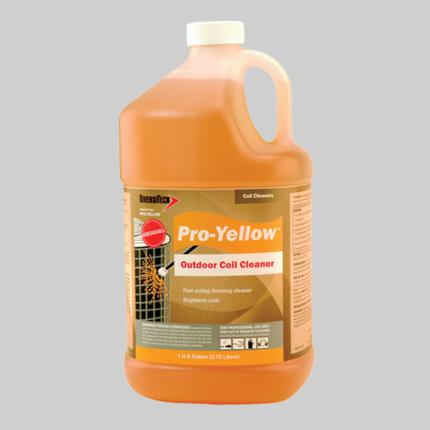 PRO-YELLOW
Pro-Yellow™
Pro-Yellow™ is an easy to apply, non-acid coil cleaner and brightener. This effective formula quickly removes dirt and grime from outdoor coils and leaves them clean and bright. It's strong foaming action removes even stubborn deposits easily.
List Items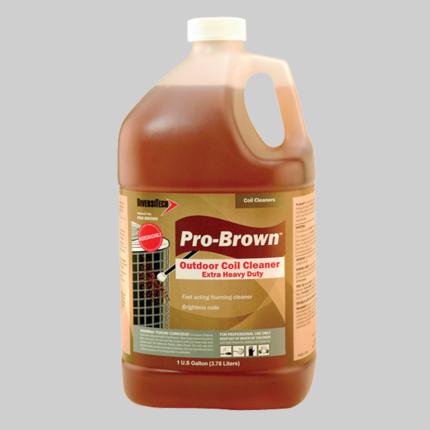 PRO-BROWN
Pro-Brown™
An ultra-high foaming formula that pulls out deeply embedded dirt. The fast, dual-action formula cleans and brightens. Pro-Brown™ is biodegradable and safer than foaming hydrofluoric acid cleaners.
List Items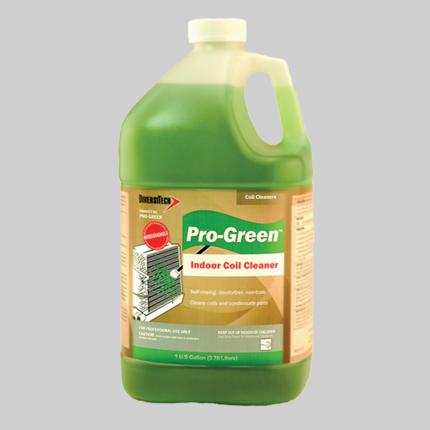 PRO-GREEN
Pro-Green™
The Pro-Green™ is a non-toxic, self rinsing evaporative coil cleaner which is a safe-to-use product on your evaporator coils. This coil cleaner can also be used on air-cooled condensers, electronic filters and fan blades.
List Items
PRO-RED+
Pro-Red+™
Pro-Red Plus™ Non-Acid Coil Cleaner and Brightener is an easy to use, concentrated, fast-acting product that foams and lifts away stubborn deposits from air-cooled condensers and coils. It removes tarnish and corrosion deposits, and leaves a bright clean shine on aluminum and copper coils.
Pro-Red Plus™ Non-Acid Coil Cleaner and Brightener cleans by chemical action. Its brightening properties are as effective as conventional acid coil cleaners, but Pro-Red Plus™ does not contain extremely toxic hydrofluoric acid. The vigorous foaming action eliminates the need for prolonged soaking, steam cleaning or scrubbing coils. Non-acid formula does not emit corrosive fumes, and will not rust ferrous metals
List Items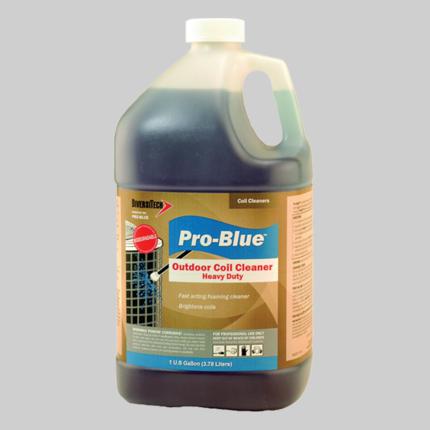 PRO-BLUE
Pro-Blue™
The Pro-Blue™ is a heavy-foaming, alkaline-based coil cleaner which will assist in removing the build-up on your air-cooled condenser. Buy the Pro-Blue™ and help your condenser look as good as new.
List Items